1 hour ago 0
12-14-2021 11:19:01+07:00
BCM is about to transfer 18.9 hectares of land for more than 242 million USD to CapitalLand
At the meeting on December 13, the Board of Directors of Corporation for Investment and Industry Development – JSC (HOSE: BCM) approved the policy of transferring 18.9 ha located in the new urban area of Binh Duong Industrial – Service – Urban Complex for foreign partners.
Accordingly, the transferee is BD New City Pte. Ltd – a company owned by CapitalLand (Vietnam) Holdings Pte. Ltd established. The company's head office is at Capital Tower, Singapore.
18.9 ha that BCM
transfer includes 7 land lots from Lot B8 to B15 belonging to Urban Area located in Binh Duong Industrial – Service – Urban Complex. According to the announcement, the total value of the deal reached more than 242 million USD
. The value in VND will be converted at the time the two parties sign the contract.
At the end of last November, BCM held a successfully held the 2021 Annual General Meeting. In which, the General Meeting of Shareholders BCM approved the plan for 2021 with the target of total revenue reaching 8,900 billion and profit after tax 2,300 billion , an increase of 15% and 5% respectively compared to the results achieved in 2020.
Looking back at the first 9 months of 2021 of
BCM, the Company recorded a total revenue of 3,933 billion dong and after-tax profit was nearly 1,038 billion dong, down more than 25% and 19% respectively over the same period.
On the other hand, compared to the approved business plan, BCM achieved 44% of revenue target and 45% of profit target.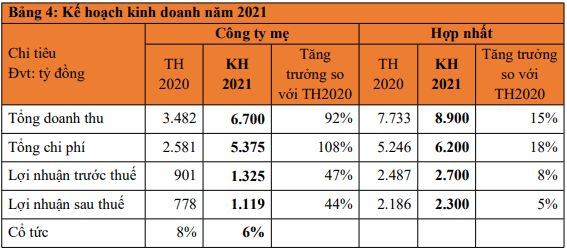 Source: BCM
In addition to the business plan, BCM aims to break ground and start construction of important projects. concurrently inaugurating and putting into operation the projects generating power in industry – urban areas and services as follows: Groundbreaking ceremony and business operation of Cay Truong Industrial Park; Commencement of Cultural – Commercial, Service – Central Station A1 (WTC Binh Duong New City Complex); inaugurated Exhibition Center WTC Expo TPM Binh Duong; inaugurated the Student Experimental Workshop; traffic on the whole Tan Van – My Phuoc – Bau Bang route.
Another noteworthy content in the last meeting, the Board of Directors BCM submitted for approval of the addition of business lines. Specifically, BCM wants to add 9 business lines, including: Power transmission and distribution; construction of electrical works; architectural activities and related technical consulting; other business support service activities that have not been classified elsewhere; inland waterway cargo transportation; Warehousing and storage of goods; providing direct support services for water transport; cargo handling; other supporting service activities related to transportation.
Ha Le
FILI
News in the same category
At the meeting on December 13, the Board of Directors of Investment and Industrial Development Corporation – JSC (HOSE: BCM)…

BCM 57.2 (1.7) VND 81.1 (0.6) WTC 39 (-2.7)

On December 13, the Ministry of Health issued a decision on revoking the certificate of business eligibility…

DVN 27.1 ( 1.9) VMD 37.65 (-0.45)

On December 13, the General Meeting of Shareholders of Duc Thanh Wood Processing Joint Stock Company (HOSE: GDT) approved the Resolution to collect shareholders' opinions…

GDT 58.9 (-0.1)

---

Business activities

What does KIDO charge at F&B yard?

2 hours ago

While the food and beverage (F&B) businesses are struggling due to the impact of the Covid-19 epidemic, KIDO has launched the Chuk Chuk brand and continuously has many successes. g signed with heavyweight partners. Does KIDO have any special calculations?

While food and beverage (F&B) businesses are struggling because of the Covid-19 epidemic…

FPT 95.7 (- 0.3) KDC 55.7 (-0.3)

Business activities

Coteccons: The dreamer in the construction village

3 hours ago

"Many people think that since I joined Coteccons, the company's strategy is illusory, flying, in other words, we are dreamers in the construction industry. build. We dream, but not in vain. I can confirm that none of us here want to build an OK company, we want to build an extraordinary company," Coteccons Chairman Bolat Duisenov shared at the meeting. shareholders organized by the Company for the first time.

"Many people think that since I joined Coteccons, the company's strategy is unrealistic, flying…

CEO 41.7 (0.7) CTD 88.8 (-1.7) EPC 6.2 (0)

On December 13, Masan Group Joint Stock Company (HOSE: MSN) has just announced the signing of a Transaction with a group of investors…

MSN 156.8 (0.8) USD 11.4 (0)

Vietjet Aviation Joint Stock Company (Hose: VJC) has just announced its financial report for the third quarter of 2021. According to newspaper…

---

On 12/12/2021, Ha Tinh Provincial People's Committee and Vingroup officially kicked off the Production Factory…

---

---

Business activities

Nam Long strategic cooperation with TBS Land

12/13/2021 08:30

On 11/12/2021, Nam Long Investment Joint Stock Company (HOSE: NLG) officially signed a strategic cooperation agreement with TBS Land affirming the companionship. close, long-term, "going forward together" of two sustainable development enterprises in the Vietnamese business community.

On 11/12/2021, Nam Long Investment Joint Stock Company (HOSE: NLG) officially signed a strategic cooperation agreement with TBS…

NLG 59.7 (-0.1)

---

---

As a pioneer to join the Moscow Exchange (Moscow Exchange – MOEX), VRB marks the step…

VND 81.1 (0.6)

Thank you for posting error message .

Back to top

Read More